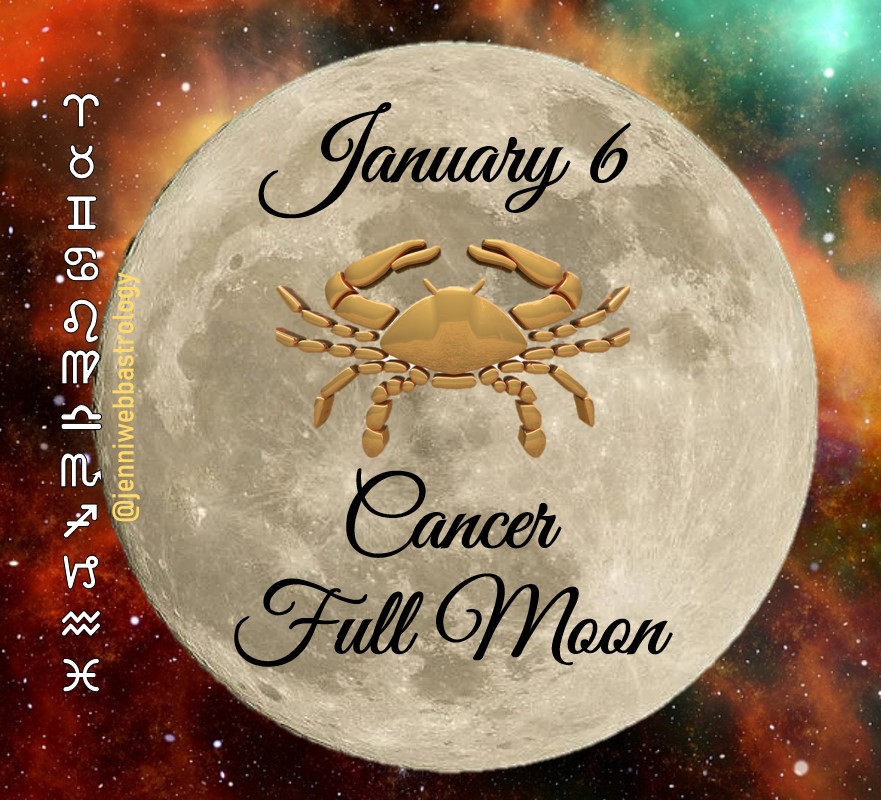 This Full Moon occurs when the Moon in Cancer comes to oppose the Sun in Capricorn.  This axis highlights our need for gentleness and emotional bonds versus our need to toughen up and pursue goals. It's time to evaluate your day-to-day activities.  Do you feel you have a good work-personal life balance?  Or has one gotten out of control at the expense of the other? If family has been too demanding, be honest about how you feel.  You may need to limit how much work you are doing for them. Let them establish some independence and self-reliance.
If work demands are too heavy, it's time to let the company know what you think is a reasonable workload and set up new boundaries. You can work on this through January 22nd.
Chiron's position right now points to a wound.  Are you using work to avoid issues at home or vice-versa? With Uranus in positive aspect to the Full Moon, there is support for making adjustments.  Any changes you initiate with be less disruptive than they would at other times.  
Capricorn, Cancer, Libra, Aries:
If any issues came up when Mercury went retrograde a week ago, you may notice emotions being stirred up right now in connection to those events.  Good communication will be key to working through this.  Tell others how you feel.  Be as honest as you can, but make sure to practice your listening skills too.
Taurus, Virgo, Pisces, Scorpio:
This time may be really nice – where you can see a successful climax of new projects or intentions you set at the New Moon.  You can easily embark on a new course now or act on any innovative ideas you've had in the past week.  Take your time, though, as Mercury is still retrograde.
Gemini, Leo, Sagittarius, Aquarius:
 An adjustment may need to be made concerning your work-romantic life balance.  Has your love life been distracting and keeping you from responsibilities? Or the opposite – maybe you feel like you don't have time to date or to connect with your partner.  Think about what you can do differently and implement these changes January 18th – 22nd.