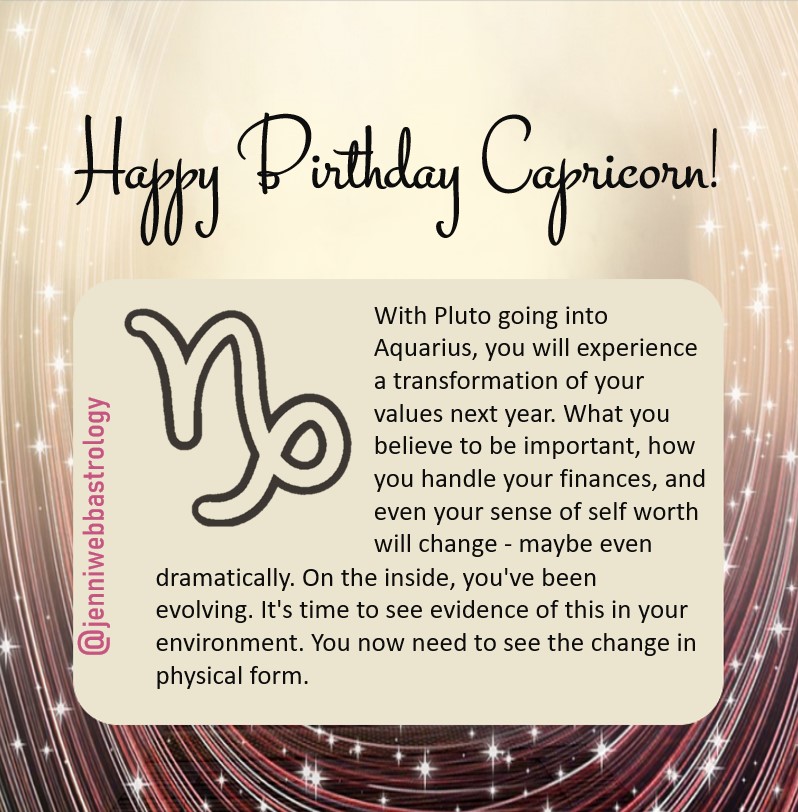 For the past 2 years, you've had increased financial responsibility. Maybe your bills went up. Or maybe you bought a house and now have a mortgage and property taxes. If you have enough money to cover these extra expenses and can save a little money from each paycheck, then you don't need to be too concerned about Pluto going into Aquarius. But if you are living paycheck to paycheck, just barely getting by – or worse, accumulating credit card debt – then next year could be difficult.
The source of your income will be changing. This could be a spouse retiring, starting a side hustle to bring in money or maybe a change of position comes with a change in salary. Or maybe you had begun a business a few years ago and it's not profitable. Something with money and finances needs to change. You won't have to look to hard, it should be obvious. Let go of the old ways of doing things and welcome this new phase. Your hard work will bring rewards down the line.
You may see an opportunity to work from home January through May 2023. After that, work on your creativity and authentic self-expression. The universe will encourage you to come out of your shell and show off a little! You can make an early beginning on a new creative project that could potentially bring you big, big gains in the long run -but it will take time to develop.
Is there a relative that you haven't spoken to in a while? Reach out to them in January, February or March 2023. This is also a fantastic time for solutions to family issues.  Expect family discussions the last two weeks of March. If something needs to be worked out, especially with a spouse, don't wait. As we head into spring, you will find it increasingly difficult to compromise. Spring will be a good time to air grievances, but with Mars opposite your Sun that can be a slippery slope! Try to avoid unnecessary conflict and choose your battles wisely.
Summer 2023 will be great if you are looking to add a little romance back in your life! More opportunities to date, either new people or your current partner! You can make new friends from various backgrounds and cultures. Have you been having trouble with one of your kids? Look for improvements during this time as well.
Lucky days for Sun in Capricorn:
Dec 23, 2022, New Moon (whole lunar cycle)
Jan 18/19, 2023
Mar 25-31 (love life, excitement)
Apr 19, 2023 (home/family)
May 17, 2023 (love, creativity)
Jun 10-14, 2023 (love, creativity)
Jun 5 – Jul 9, 2023 (love)
Aug 5-18, 2023, (mental power)