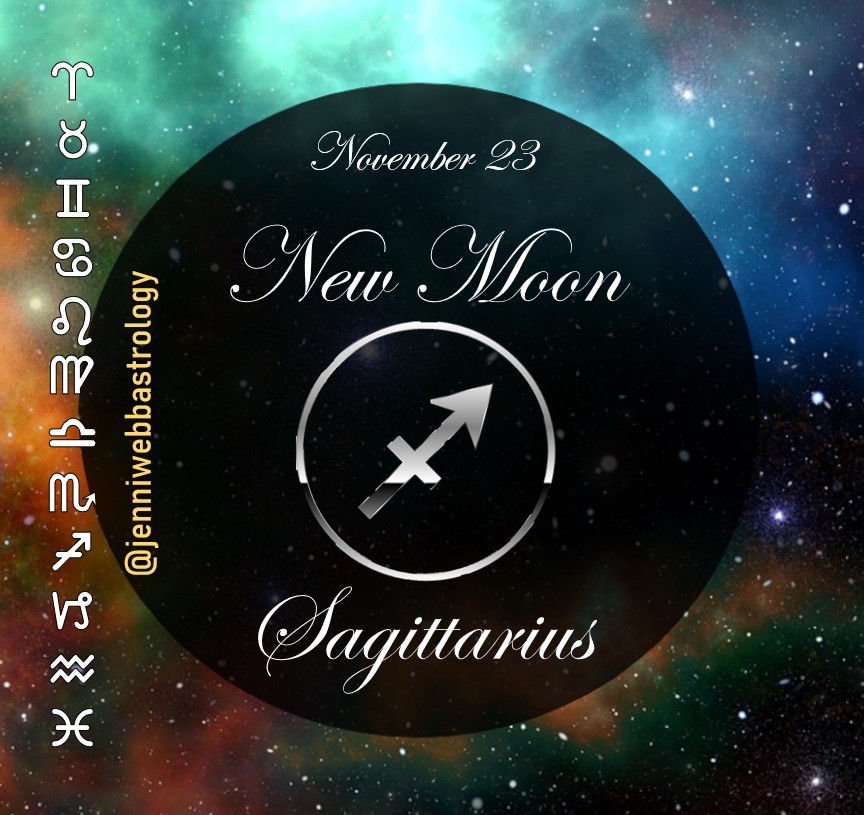 Every new moon is full of potential.
It's a great time to set your intentions for what you want to manifest over the next month. You may have lots of ideas, but things tend to flow more smoothly if we can choose something from the heart and if it relates to the sign the New Moon occurs in.
This New Moon will occur at 1° of Sagittarius.
Sagittarius is about freedom, knowledge, exploration and philosophy. Good intentions would be: new spiritual studies, sign up for college courses or continuing education, making plans for travel, get to know someone with a different background/culture and have a friendly debate!
The New Moon will be conjunct Mercury and Venus. Define new standards and explore possible goals. Develop a new vision for your future. Discuss them with others.
This is also a great time to pursue solutions for difficulties in relationships or the dating process. With the New Moon trine to Jupiter, it'll be easier to fix these problems. The trine is out of sign (not in the same element as the New Moon, since Sagittarius is a fire sign and Jupiter is in watery Pisces), but if you are flexible and willing to try a new approach, things should go well.
Any issues with your new plans will become apparent by the Full Moon in Gemini on December 7.
Mutable signs (Gemini, Virgo, Sagittarius, Pisces): You probably have a lot of ideas being generated in your mind right now! You may be feeling idealistic as well. It's a great time to write out your 5-year plan. Remember to focus on the process. Don't worry too much about the end goal being achievable. For right now, you just need to know what direction to travel. Aim high!
Aries, Leo (and Sagittarius): Healing is possible in your relationships. There are solutions available for any problems that have come up lately, especially those triggered by the Scorpio Solar Eclipse. Communication is key. Explain how you feel, but also make sure you are listening.
Libra, Aquarius (and Gemini): It's time to write out your 5-year plan along with the Mutable Signs! You are seeing clearly right now and understand the appropriate steps you need to take in order to move forward. Stay flexible throughout this lunar cycle and make necessary adjustments after the December 7 Full Moon.